As creatives, we often hit the creative roadblock. When that happens, I always like a fallback plan. For me, that includes visiting other websites that offer creative motivation. Here are 7 sites that do that for me.
Siiimple
I tend to like simplistic. This site offers just that. Lots of sites using the simplistic approach.
Update: 03/26/2019  Siimple is no longer available.
Minimal Exhibit
In keeping with the simplistic theme, this is another site that tracks with that. Again, hundreds of sites to preview and get the creative juices flowing.
Blog Design Heroes

Although it's geared towards blog sites, it's so much more than that. Another great resource to spur on your imagination.
Folio Focus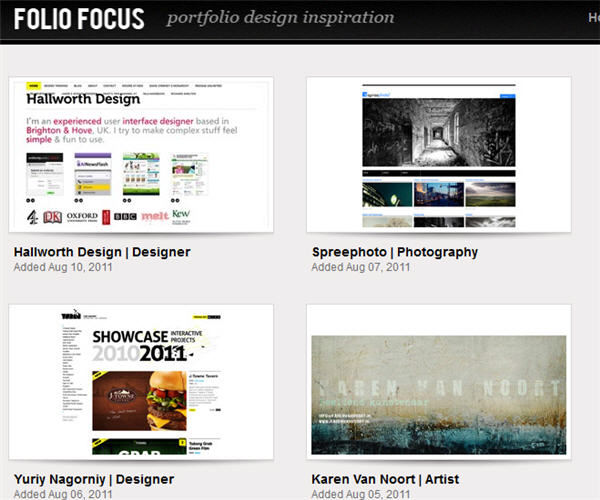 I've always enjoyed previewing portfolio sites. This one fits the bill to a T. Portfolio sites include illustrators, graphic designers, web designers, photographers, and artists.
 We Love WP
Although this site focuses on WordPress sites, it's a great site for inspiration.
Make Better Websites
Another site that offers lots of variety to get the imagination going. This site is affiliated with the 'make better' campaign. See their other sites for additional inspiration: MakeBetterShirts, MakeBetterApps, MakeBetterFlyers.
What about you? What sites do you visit for inspiration?