Image by Brent Norris on Flickr
If you're considering doing a new website or redoing your current site, I highly recommend using WordPress. One, it does a great job of keeping content separate from presentation — meaning you can do a new design of your site and the content stays intact. It's what we call a Content Management System (CMS). And two, probably even more important, it makes it easier for non-web-developers to create sites (which also means it's easier for web developers, too…saving you $$).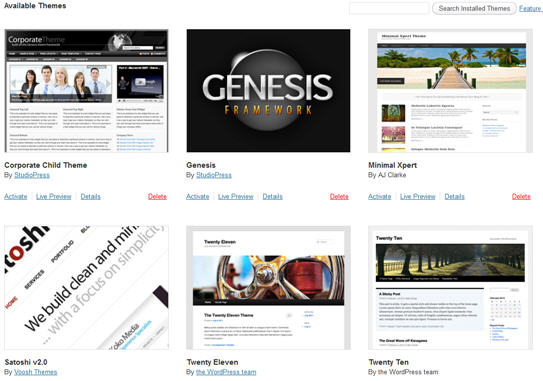 WordPress has hundreds of templates available (free or paid), or a custom template can be created (that is where we can help, if needed).
WordPress was originally for blogs, but over the past 2 years it has become so much more than that. It has become a common web development platform for web designers and developers. WordPress is open source – meaning it's free. It just needs to be installed on your web server.
My guess is you may be able to develop a site on your own – if you're computer saavy and up for a bit of a challenge.
A couple of ideas to move forward, if you want to look at the WordPress option:
1) You can experiment with WordPress at wordpress.com for free. There are some restrictions on this site, but it will give you a good idea on how WordPress works. I don't recommend putting your business site at wordpress.com – but use it as a way to get familiar with WordPress.
2) For all current clients not on WordPress, we can set up WordPress 'experiment' site for you and you can experiment with WordPress. Contact us.
3) If you want to look at a hosting option recommended for WordPress sites:
A couple of blog posts that may be of interest to you:
Can I Update My Own Website? Part 2: WordPress
Do-It-Yourself Websites (note the wordpress section)
Other articles and videos on WordPress:
WordPress Info (miscellaneous topics on WordPress)
WordPress Videos (covers how to use WordPress)
It is becoming easier to create and edit your pages in WordPress. Page builders allow for a drag and drop environment. My favorites are Thrive Architect and Elementor. For more info and to learn about other page builder options for WordPress:
What Is The Best Drag & Drop WordPress Page Builder in 2021?
If you want to start with a website builder, here's a superb unbiased and in-depth article on the 10 Best Website Builders.
If you want a thorough list of website builders and their features, check out Best Website Builders Review.
What questions do you have about WordPress?