This is the third posting in the series "Can I Update My Own Website?"  If you missed the previous two postings, check them out:
In this posting, we are going to look at another option— CushyCMS.
This option is an online option. It is available at cushycms.com. Your web designer will need to set up your account at the cushycms website. This account provides CushyCMS the 'background' information it needs to get to your web pages. After signing into CushyCMS, you will see your pages listed. Simply click on the page to edit the content of that page.
After clicking on the web page that you want to update, CushyCMS will open up the 'editable' portion of that page.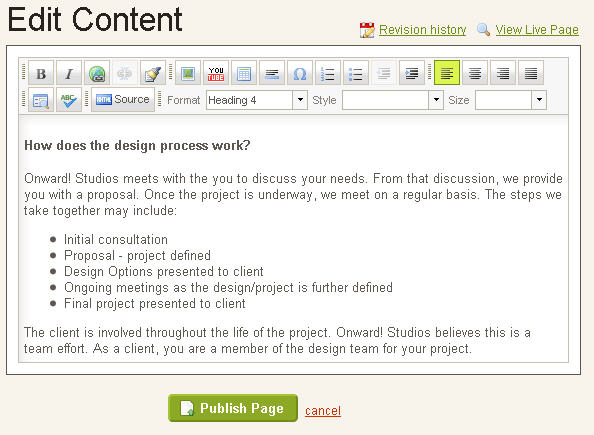 Just like we saw last week with WordPress, you can enter and format text, insert images, add videos, and format tables by using the icons above the preview area. Once the updates are complete, click on Publish Page, and walla!, your updates are completed.
This option works if your web pages are 'hooked' into CushyCMS. This will need to be done by your web designer. Once that is done, you are good to go!
Next week we will look at yet another option—Joomla.
If you have questions or comments about these options, leave a comment below.